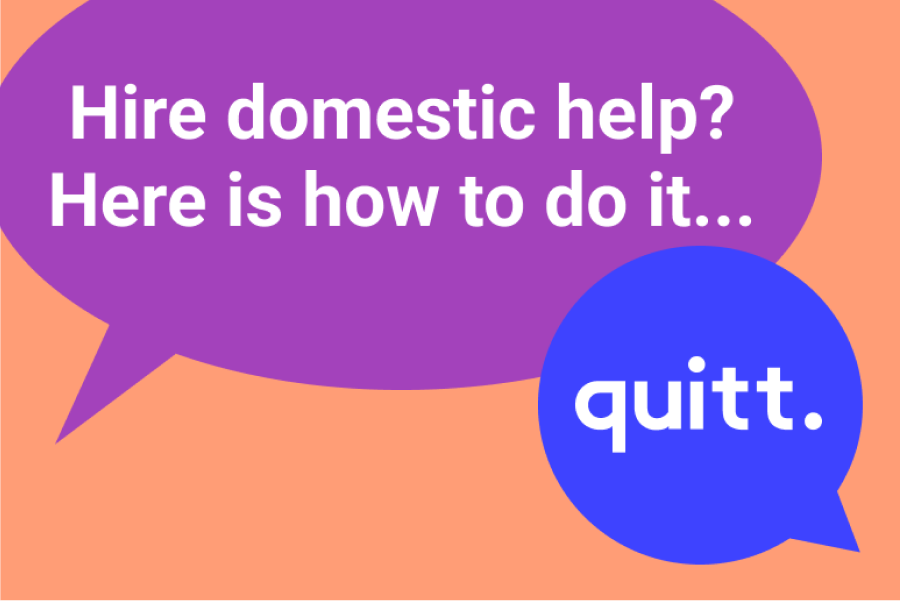 My household help doesn't want to be registered. How do I convince them about quitt?
What the blog is about:
Illegal work can be expensive for employers and employees
Employees in private households are often against an official registration
Tips on how to convince your domestic helper to be registered via quitt
Illegal work isn't worth it
In Germany, over three out of four cleaners work illegally. This means, that neither the employee nor the employer pay taxes and social security contributions. This can lead to heavy fines and retroactive payments of social security contributions for both sides.
Domestic helpers are often afraid of being registered
Not both sides are always against official registration. Domestic helpers are often afraid of bureaucratic efforts or high taxes. Furthermore, there is often lack of knowledge around the consequences but also around the many advantages of registration. When looking for a domestic helper, it should be emphasized that employment is only possible with an official registration for the safety of both sides.
Tips on how to convince your employee
Do you still need some convincing arguments? We have collected topics to win your domestic helper over for a fair and correct employment relationship:

Gross equals net: For minimum wage employees there are no or, if voluntary pension contributions are paid, only very low contributions and even for jobs above €520 per month, employee costs increase only slightly up to €2,000. With the quitt salary calculator you can work out the exact gross and net employee salary and check employer costs.

Undeclared work is illegal and can become expensive: High fines and retroactive payments of social security contributions can occur for both sides. In the event of a work accident, proof of employment relationship is mandatory. Random checks are also carried out by German customs.

Sickness, accident, pregnancy: Both employer and employee are covered in all cases with one registration. Furthermore, reimbursement of payment of continued wages due to sickness, accident or maternity leave can be requested directly via quitt.

Holidays: Your domestic helper is entitled to paid holidays, which is set in the employment contract and managed via quitt.
Protection against old-age poverty: Who works illegally has no pension! Even with a mini-job, full pension entitlements can be acquired with the employee's voluntary pension contributions (13.6%), and limited pension entitlements with the employer's mandatory contribution (5%). Full pension rights are acquired for midijobs, part-time and full-time employment.

Contribute to society: By working illegally, your fellow citizens pay higher contributions and taxes.
So why register with quitt?
quitt cares for both employer and employee. A fair and correct employment relationship is our top priority. As an employer, you benefit not only from tax benefits and coverage in the event of sickness or accidents, but also from a continuously correct employment relationship. quitt also keeps an eye on everything for your domestic helper: from holiday calculator to monthly salary statements, a fair employment contract and QR code for hourly billing. quitt is free of charge for employees.
Have more questions?
If you or your employee still have questions, our customer support team will be happy to assist you:
[email protected]
+49 30 837 96972