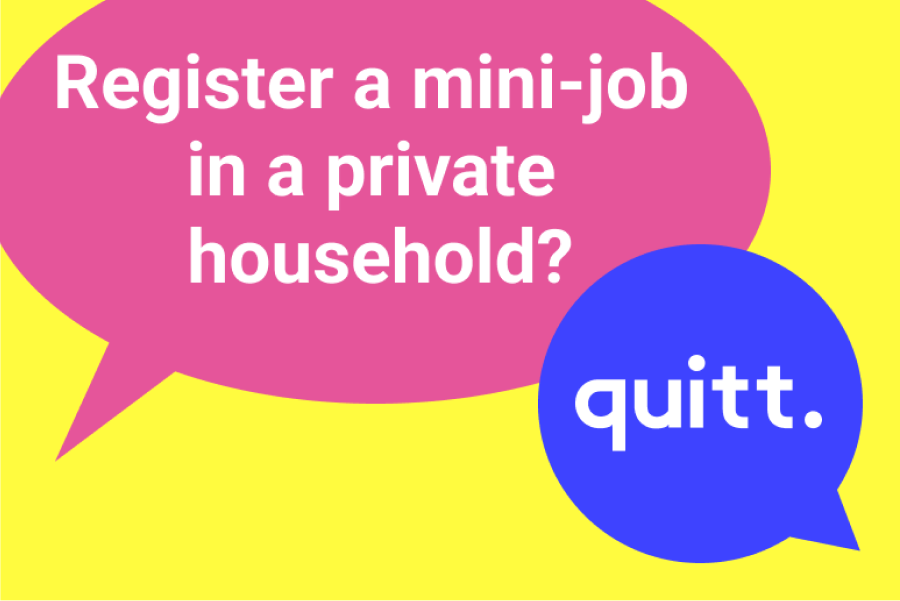 What is important to consider for mini-jobs in private households?
What it's about:
Forms of employment in private households: mini-job, midi-job and part-time or full-time job
Performing several jobs and in addition a mini-job
Working as a mini-jobber alongside your pension or studies
Mini-job in the private household – what is that exactly?
Mini-jobs are by far the most common form of employment in private households. Mini-jobs include all employment relationships with a maximum monthly wage of 520€. These are subject to other rules compared to commercial mini-jobs.
A mini-jobber in the private household performs a household-related activity, such as cleaning, gardening, or childcare, and does not earn on average more than 520€ per month or €6,240 per year. The great advantage of mini-jobs is that there are hardly any or rather no taxes or costs for employees and employers. A detailed overview is available via the quitt wage calculator.
What other employment positions are available in the private household?
Other possible forms of employment in private households are midi-jobs or part-time and full-time positions. A midi-job, also called employment in the transitional area, is characterized by a monthly salary between 520,01€ and 1.600,00 €. Anything else above this salary threshold falls under part-time or full-time employment. Only mini-jobs are not subject to social security contributions; all other forms of employment are colloquially referred to as main jobs.
Who is allowed to do a mini-job and when?
Two essential aspects regarding the exercise of a mini-job must be considered: (1) Other employment relationships and (2) Personal status
(1) Several jobs and mini-jobs (applicable to all groups of persons)
(2) Personal circumstances and Mini-jobs
Why register a mini-job with quitt?
quitt always keeps you up to date on current information, such as income limits. Only this way can you be sure that there is always a correct and legal employment relationship. Register your household help simply, digitally, and fair with quitt and enjoy your free time: